Seagate Skyhawk AI 3.5" 10TB ST10000VE001 256MB Surveillance NVR Hard Disk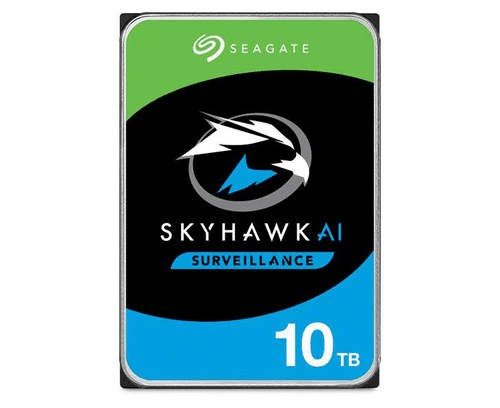 The Seagate 10TB SkyHawk AI SATA III 3.5" Internal Surveillance HDD ST10000VE001 is the best fit for Network video recorders (NVR), AI-enabled NVR systems, Video-edge NVRs, and NVRs with advanced analytics.
· It is built with ImagePerfect™ AI firmware that features excellent image integrity alongside additional AI workload support in always-on, AI-enabled surveillance systems.
· This AI hard drive is designed for more than 3× the workload of standard surveillance drives that ensure seamless video footage capture in a 24/7 surveillance system.
· This hard drive offers 10 TB of storage which can store a large amount of data. It also provides 7200 RPM speed that gives fast disk access, 256MB buffer size or cache, up to 226 MB/s sustained transfer rate and an interface of SATA 6Gb/s.
· Advanced vibration management for superior and sustained performance in 16+ bay NVR systems.
· SkyHawk Health Management actively helps protect your surveillance storage by focusing on prevention, intervention, and recovery options. Included is RAID RapidRebuild, which provides 3x faster volume rebuilds.
· Improved reliability and reduced total cost of ownership with 1.5M-hr. MTBF.
Seagate SKYHAWK AI 3.5" 10TB ST10000VE001 256M Surveillance NVR SATA3 Hard Disk
Product Code: ST10000VE001
Availability: In Stock