Barko Back-off Badguy Security Deterrent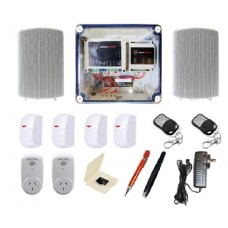 Price:
$899.00
$770.00
& Free Shipping
FEAR….is the best deterrent!
The Barko 'Back-off Badguy' Home and Busi­ness Security Deterrent is an extremely realis­tic 'wireless plug and play' deterren. It is a complete crime prevention strategy designed to activate one of man's most powerful emo­tions – FEAR.. THE PERP NEVER SEES THE DOG, AND AFTER HEARING IT, NEVER REALLY WANTS TOO!!!
Why the Barko Deterrent works!
Over 90% of theft is opportunity!!! Whenever an individual approaches your premises with the intention of stealing something their adrenaline levels are 'sky high'….
As they tentatively approach and get within approx. 12 meters of your building they will be confronted by the sound of a vicious angry dog moving inside the home , shed or business.
The fact they can 'hear' but cannot 'see' the dog adds to the effect. If they approach at night, lights will come on inside the building and they will hear a human voice over the barking dog , indicating someone is inside. A vicious dog injects 'primal fear' in all men, they don't think they just leave immediately..
Options coming soon:
Intelligent Wireless Outdoor Sensor IP65 Rated for intruders in yards and open spaces
Wired Sensors and Infrared Beams
Pressure Mat – Located under front door mat ideal for apartments when external sensors unsuitable.
Back to Base' Alarm Com­municator -Set to Bark se­quence to reduce false alarms
Applications for your Barko Back-off Bad Guy Deterrant

Home and Business
Rural Sheds and Garages
Absentee Landlords
Indistrial Sheds
Rental and Leased Premises
Yards and Open Spaces
Flats and Apartments
Ideal for Aged and Single Residents

Extremely Vicious Barks – Choice of 3 one with a human voice.
Dog moves inside the building.
Wirelessly turns on 2 internal lights once the dog starts barking.
Totally protects any building with 4 wireless PIR sensors.
433 mHz Aerial included for enhanced signal reception in tin sheds.
Ability to connect to CCTV, Back to Base or any other traditional security device.
Will charge and run on 12v battery if no 240v ac power.
Simple audible control from hand held remote.
Easy self-install or installation can be arranged.
Free 'Beware of the Dog' sign and LED Tool kit.
Will do exactly the same, if not better, job at protecting assets than a real dog.
Fraction of the cost of acquiring a real dog with no ongoing cost.
Once installed, set and forget, with no ongoing management.
Will keep people away from your Home, Business or Shed 24/7 365.
Lifetime Product Warranty
2 x Wired High Quality Stereo Speakers with Active Panning so your dog moves inside the building.
3 Different Bark Options one with a Human Voice
2 x Wireless Light Switch Sockets- will turn internal lights after three barks while there is still power in the house.
4 x Wireless sensors for front back and sides plus 2 x Remote Control with Bark Activate button.
1 x 'Beware of the Dog' sign
1 x Back-up Battery. Your dog will continue to work even when the power is cut.
1 x LED Mini Screwdriver set and Tweezers to adjust settings on your system
Audible 'On' 'Off by remote simple operation with no keypad plus Inputs and Outputs for accessories
Online and enclosed Installation and Operation Manual http://www.barko.com.au/install/
Write a review
Your Name:
Your Review:
Note: HTML is not translated!
Rating:
Bad
Good
Enter the code in the box below: